Integrate with Chatter groups
Integrate with Chatter groups
By Erik Ayers
updated about 1 year ago
Step 1: Configure Salesforce


1.  Navigate to Settings area of SalesForce.

2.  Navigate to Platform Tools > Apps.
3.  Click New Connected App and fill out the resulting screen as follows:

App Name: GoodSeeker
API Name: GoodSeeker
Email: info@goodeeker.com
         Click to enable OAuth Settings options and configure as follows:
Callback URL: https://my.goodseeker.com/player/add-chatter-integration
Selected OAuth Scopes:  Access and manage your Chatter data (chatter_api),  AND Perform requests on your behalf at any time (refresh_token, offline_access)
Require Secret for Web Server Flow: On
   4. Save the app in Salesforce.
   5. On next screen copy Consumer Key and Secret. You will need these to configure GoodSeeker.

Important: wait 10 minutes before proceeding to this step as Salesforce requires time to propagate its settings.
Step 2: Configure GoodSeeker
1.   Log into GoodSeeker with an administrator account.
2.  Navigate to Company Settings > Integrations.
3.  Click the Salesforce Integration.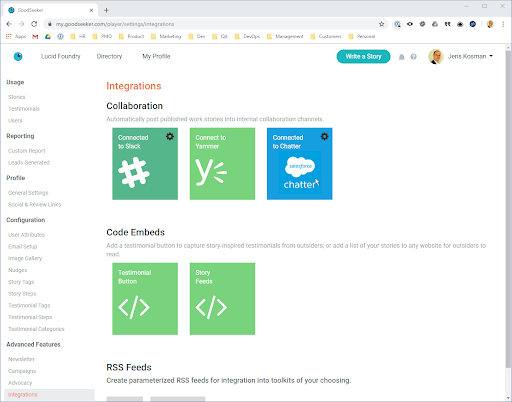 4.  Enter the Salesforce app Consumer Key and Secret from the earlier step.
5.  Accept the Salesforce confirmation for access.
6.  Once redirected back to GoodSeeker, select the Salesforce Chatter group to publish stories into.
Did this answer your question?