TIP:

always best to make sure that your instagram account is set to a business account. This allows for greater integration between your facebook page and instagram account.

Instagram Help Page
Publishing from one content platform into Instagram has some challenges, but there are options to make it easier. The methods below give you the option of pulling in phots, video AND text from the story. A few extra steps are required.
Use Buffer to post to Instagram from GoodSeeker
Benefit we love: Scheduling your post to go live later. Buffer also has a free plan that works just fine.
First, create a free buffer account and connect it to your Instagram account. From a public GoodSeeker story choose the share option to post into your Instagram account (see above for converting a personal account to a business account on Instagram).
We like the approach of having two tabs side by side on your computer, one for GoodSeeker, the other for Buffer. This makes grabbing content in addition to the image easier. See the video below for an example. https://watch.goodseeker.com/yAuJwjW2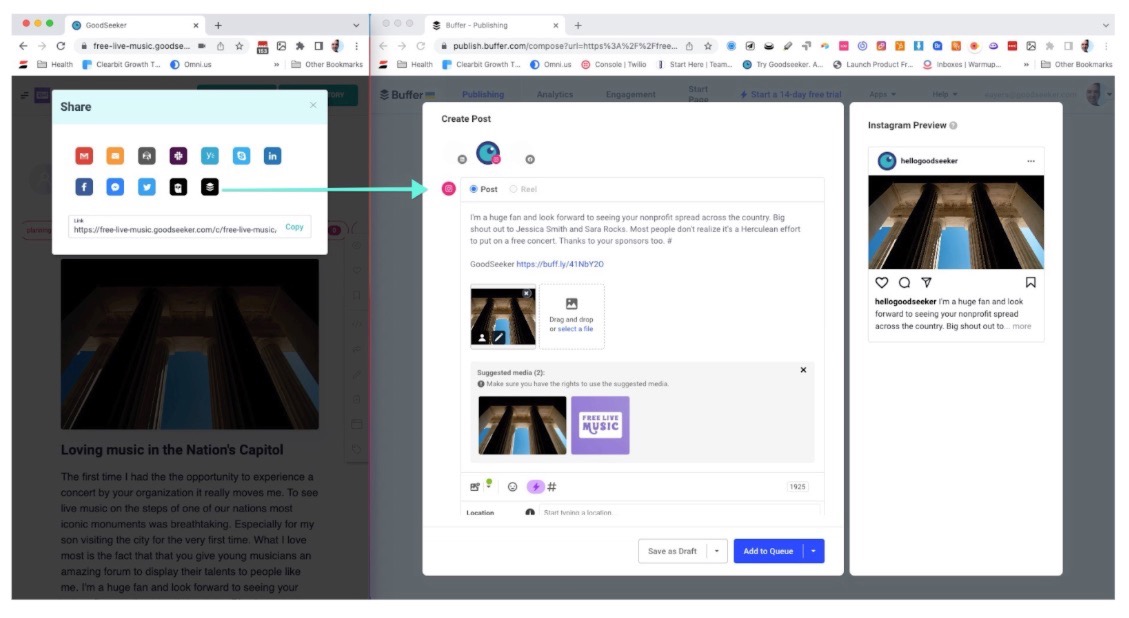 Post directly into Instagram from GoodSeeker from Desktop
Buffer is the better choice, but if that's not an option this will work. Downside, no ability to save posts as a draft for later.
Similar to the Buffer example in this scenario it's nice to load Instagram and GoodSeeker side by side on a desktop. Unlike with Buffer (where the images are extracted for you), you need to save the image or video, then upload to Instagram. Copy content from the GoodSeeker story into your Instagram post.
(Note on Saving Images: Chrome now defaults to a non standard image format that does not work with Instagram. Download the Chrome Extension "Save Image as Type" to convert any saved image from Chrome into the format of your choice)
https://watch.goodseeker.com/4guN6AKj